Dutch Lily Days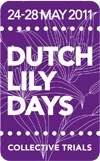 The Dutch Lily Days are now official launched with an official website. The biggest lily companies in Holland have decided to work together during their open days.

So now we launch a brand new concept called "Dutch Lily Days" A whole week in which you can visit the biggest lily companies of The Netherlands.




During the "Dutch Lily Days" you will see a perfect and big event for flower grower, supplier and breeder at VWS Export - Import of Flowerbulbs BV. A new aspect of this year is the opening to public instead of only to growers and breeders. With a strong campaign everyone will be informed about the new "Dutch Lily Days". Production and techniques together at one place, an ideal combination, according to the visitors and suppliers of the past Open Greenhouse Days.



VWS invites you to visit our company during the Dutch Lily Days. To be sure everything will be arranged in time for you, please contact our salesteam to put yourself on the visitors list.


"Dutch Lily Days" from 24th till 28th May 2011 - Don't miss it !!!

During the "Dutch Lily Days" 450 till 500 different lily varieties which have been planted in the trial greenhouse, can be seen.
The different varieties have been split up in 50% new and 50% existing varieties
.

Trials f
rom more than 2100 lots
have been planted in order to form a good picture of as many as different growers and varieties possible.
Route information (
Location and Hotels
)

If you come by train
,
go to station Heerhugowaard.
Please call us upon
arrival

and we will pick you up within 5 minutes.
By car: click here for our location details

During these days the greenhouse will be extended with a large show space in which 20 to 25 suppliers will represent their companies. Read more on our Event Info page.



Participants of the

"
Dutch Lily Days
"



The "Dutch Lily Days" are brought to you by the biggest lily companies. For more info about the participants you can look at
the
official website
.